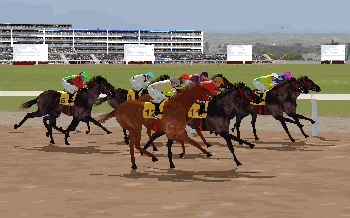 Virtual Games
Virtual Games allow the player to feel like they're a part of the action. There are many different kinds of virtual games, some are purely chance while others allow you to play a major role in the outcome.
The most popular virtual games are the horse racing ones, many sportsbooks and casinos offer virtual horse racing, dog racing, or car racing.
Virtual horse racing sites like Digiturf and Race Clubs allow you to buy, train, and race your own horse against others for cash and prizes.
A preview of a virtual horse racing race from Race Clubs
Skillground offers virtual games that are like video games, and allow you to compete against other players for real money
List of Virtual Games available at Skillground
War Path

Close Quarters Conflict

LA Street Racing

Kung Fu: Deadly Arts

UTour Golf
Preview of UTour Golf

Play golf online against other players for real money at Skillground.

New players get a 100% match bonus up to $30.
Play games like "Rock, Paper, Scissors" or "Virtual Soccer" for real money, as well as the standard casino games. One account gets you access to everything.
Preview of virtual soccer game
Spot Kick
, available at
Intertops